C-Shock: A New MAC Color Story
I'm skipping my way to Nordies after work to pick up MAC's new color story, C-Shock!
I'm pretty excited about this one girls (and guys)! The shadows are extra bold and outrageous, just the way I like 'em, because after all I'm a bold and an outrageous girl (So not true but it does sound exciting when I type that doesn't it? Don't kill the mood let me go on believing that for the next 2 minutes of this post!)! You can go ahead and add exciting in there as well...I'm bold, outrageous, and exciting...oh wait..we were discussing MAC weren't we?
Truly the one that I am properly chuffed about would be Big T!
Big T from the C-Shock Collection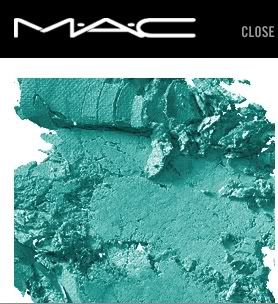 It looks like such a delightful oceany/aquay/tealy/bluey yummie color!
Anyway.........updates and lovely pictures to follow shortly! Can't wait to get my hands on these! But first I have to get through the long work day...sympathetic sighs are welcome!
Labels: MAC, Summer Collections 2007